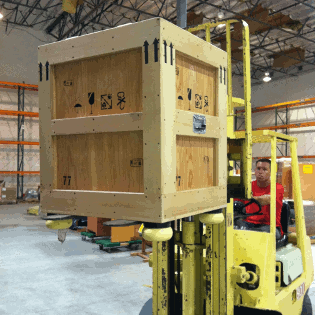 Here is What Comes with Acclaimed's Los Angeles Storage:
Long-term or Short-term storage options.
A safe, secure facility.
A climate-controlled environment.
Los Angeles is a city that's constantly on the move. Whether its businesses, or individuals, there are people moving to and from the city on a daily basis. However, with all of those moves comes a need for long-term and short-term storage options. To accommodate those needs, storage facilities have sprung up all around the city. But, in order for your stuff to remain in great condition, you need a storage facility that provides more than just four walls and a roof. You need a Los Angeles storage facility that has climate-controls, security, and a staff that can assist you with getting your things in and out. Acclaimed Movers and Storage, the city's first choice for all moving and storage needs, offers space in a colossal, state-of-the-art facility that is perfect for anything from an automobile to a piece of priceless art.
Los Angeles Storage
Acclaimed's storage facility is a shining example of technology blending with industry, as it features a climate-control system that keeps the temperature at the perfect level for the preservation of any item. Changes in temperature and adverse weather conditions have no effect on your items once they're inside our facility. We also use a vault-based storage system, where items are stored in specialized vaults and not in a community environment. For security, we have 24/7 video surveillance, which covers every inch of the facility, allowing us to always have an eye on everything stored with us. Whether you have artwork, antiques, electronics, or any other type of household or office goods, our storage facility is the perfect place to keep those items. Moreover, we can also store boats, cars, and bulky items. In addition, we have a staff of experts who will assist you with bringing your items in, as well as, taking them out of our facility. Acclaimed has storage solutions for all of your Los Angeles storage needs. Call Acclaimed Movers & Storage at (888)668-3703 to find out all the rates and details.